5 Back to School Must-haves for Preschoolers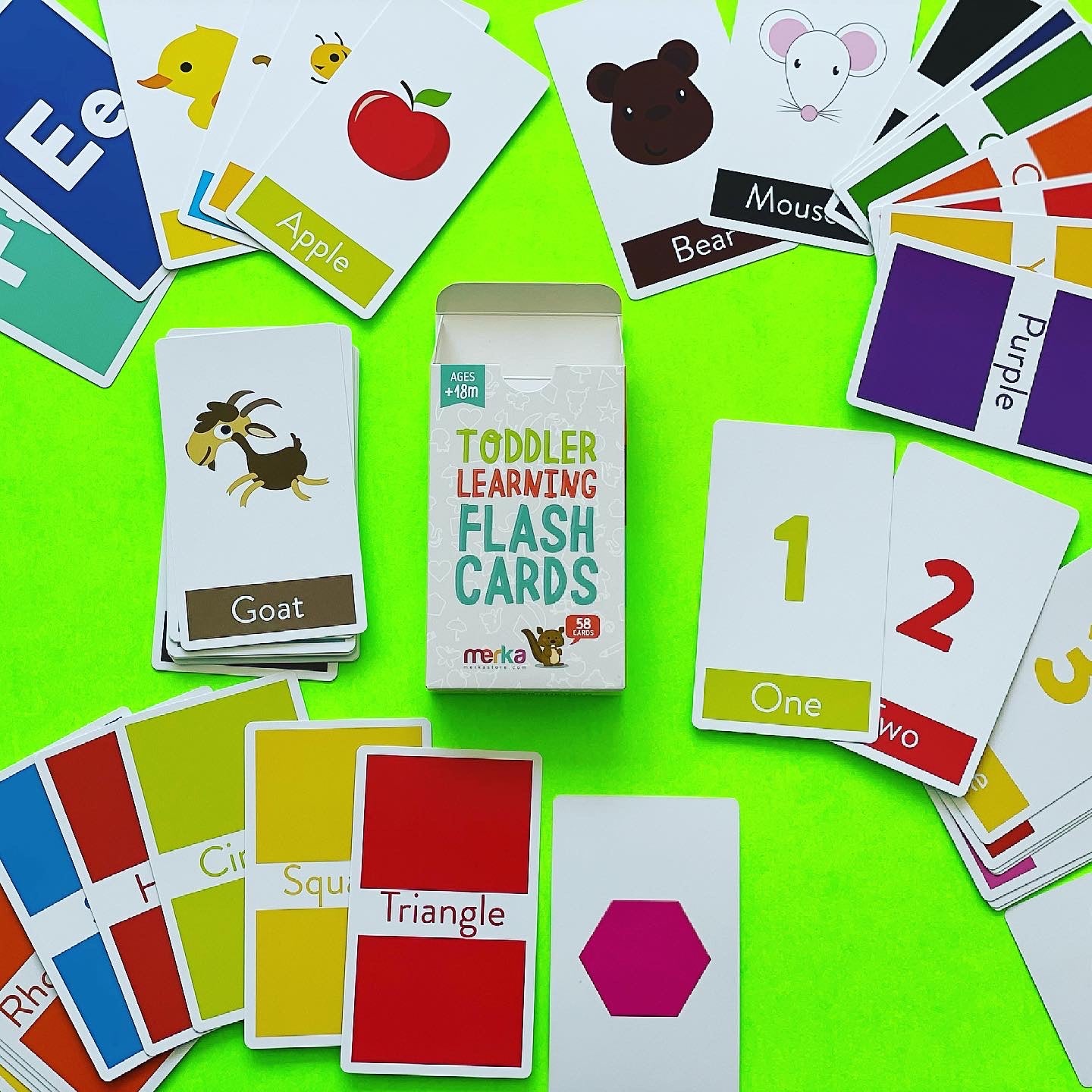 It's that time of year to start stocking up on back to school materials and we can't wait to share with you which merka products are our all-time faves for preschoolers.
This set is for toddlers and beyond and is so versatile for preschoolers to play and learn with. Our wipe clean Educational Placemats are reusable and durable, with a handy non-slip back. The set includes four placemats- shapes, colors, numbers and letters, covering all the fundamentals for a preschooler.
The most obvious way to use these placemats is during meal time and of course we think that's a fantastic idea. Learning and eating sounds like a fabulous combo. But there is also a whole host of other ways to play and learn using the placemats. Why not team up the shapes mat with some play dough and challenge your little one to make play dough shapes. Maybe your preschooler would enjoy using the color mat for a color themed scavenger hunt inside or outside. Or you could even get them to count out their snack onto the number boxes of the number mat. There are so many different possibilities and you can read all about them in our blog called Hands on Learning with merka Toddler Placemats.
Teaming up our Toddler Flashcards and Placemats is such a great combo because they cover the same four topics- letters, numbers, shapes and colors, and many activities can be enhanced by using both materials. It can be really fun to simply challenge your preschooler to match the flashcards to the correct section of the placemat.
Flashcards can be used in the more traditional sense of showing the card to the child and the child identifying what is on the card. However, we love using them to enhance hands-on play and learning activities. For example, teaming them up with some letter waffle bricks to work on name building and writing (see blog for more details), or using them for grouping and sorting activities. The flashcards are tear proof and water resistant, with high quality text and images printed on them. This particular set comes with a total of 58 double-sided cards.
If you are looking for something a little more creative, why not add one of our fun coloring mat sets to your teaching and learning materials list. merka's Coloring Pads come with four mats and ten vibrant dry erase markers. Various themes are available, such as letters and numbers, space and jungle, and maps and dinos. The mats are BPA free and FDA approved, and are super easy to wipe clean with a damp cloth.
The main attraction of these mats for preschoolers is that they get to decorate them in any way they wish. Using the dry erase markers and wiping off the markings all by themselves is quite the novelty! They can also be used for combining early literacy and numeracy activities. We love this idea of using loose parts with the number mat, you can read all about it on the blog.
Stimulating Educational Posters
Whether you are teaching in a classroom or in a homeschool room, posters can be a great way to provide visual prompts and they also add a splash of color to those big empty walls. The posters cover a variety of learning topics, and are made using high quality images and materials.
Why not set up a themed area of your schooling room using some of the posters and a prop or two. Seeing big visual prompts on the wall can inspire preschoolers to ask questions and develop an inquisitive mind, especially when it comes to helping to nurture little scientific minds. What a fun idea to simply set up two map posters with an interactive globe, hours of fun!
Our Explorer Flash Card set is perfect for preschoolers & beyond! From countries, to states, to senses & spaces there are so many different topics to explore and they're guaranteed to inspire some creativity in your learning time.
 We especially love the senses cards within the Explorer Flashcard set for young preschoolers ... we've got a whole blog post just how to make this set up shown! 
We look forward to seeing how our products are used at home and in the classroom this academic year. Please remember to tag us, @merkastore, with all of your wonderful play and learning ideas!
Collection 2019
Sale 70% Off
Title for image