5 Favorite Christmas Traditions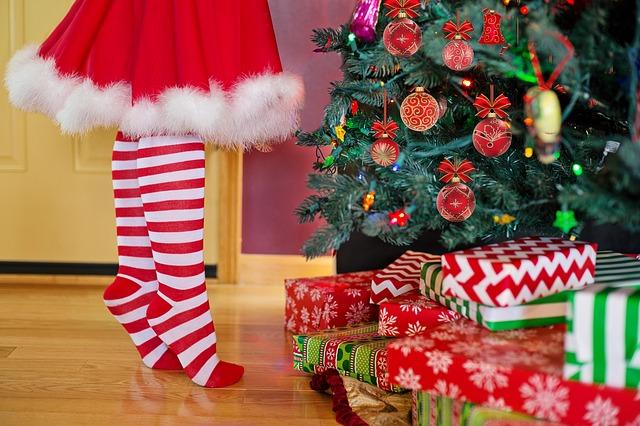 Christmas is the time for traditions and memories. While presents are fun, the kids remember the traditions for years to come, and as adults, those traditions will stick in their minds. Our family has five favorite Christmas traditions that we look forward to each year.
Our 5 Favorite Christmas Traditions 
1. Cutting Down Our Christmas Tree
Usually, the first weekend the first of the month is when we cut down our Christmas tree. Rain or snow, we all bundle up in warm clothes, make a few cups of hot chocolate, and visit our favorite local Christmas tree farm.
I admittedly take forever to find the right tree. We joke that I have to feel it in my soul before I commit to a tree.
Then, we order food out and spend the rest of the day eating and decorating the tree. I put on the lights and the kids are in charge of the ornaments. It ends up looking haphazard, but it's one of my fondest memories as a child. I know my kids will look back at these days with love. 
2. Visiting a Local Christmas Light Display
In our area, we have a nutcracker village and a large Christmas light display that we visit each year. The kids find the sights so enchanting (and so the adults). We stop at the different shops, munch on hot pretzels, sip hot chocolate, and take a hayride around our town.
Despite the simplicity of the evening, the kids find it fascinating, and they look forward to it each year.
You might have something similar within driving distance to your home! 
3. Baking Cookies for Neighbors
Christmas is the season of giving, and one of our favorite Christmas traditions is baking cookies to give to our neighbors. Our kids and I work together to bake several dozens cookies. Then, we package up the cookies and hand-deliver them to our closest neighbors. 
Not only do we love baking cookies, but it also teaches my children the beauty of a giving spirit. 
4. Extra Time Together as a Family 
Christmas time brings our family together, and we try to slow our busy lives down. Since we homeschool, we take off plenty of time but still find time to educate our children. We take the time to use the merka educational flashcards to ensure my preschooler is staying on track.
We take plenty of time to read together. Our kids love snuggling on the couch to read books. We take drives to see lights around our house and drink copious amounts of hot chocolate. 
5. Having Movie Marathons in the Evenings 
There are so many awesome Christmas movies, and we try to watch as many as we can. As the temperatures dip down, we gather around on our couch to watch some of the classics. Our kids love all of the versions of The Grinch, Polar Express, Rudolph The Red-Nosed Reindeer, and the Elf.
Even though we try not to have too much screen time, we make quite an exception during the Christmas season. Who doesn't love Christmas movies? We sure do! 
Reviews (13 comments)
Collection 2019
Sale 70% Off
Title for image