6 Fun Ways to Teach Your Preschooler The Alphabet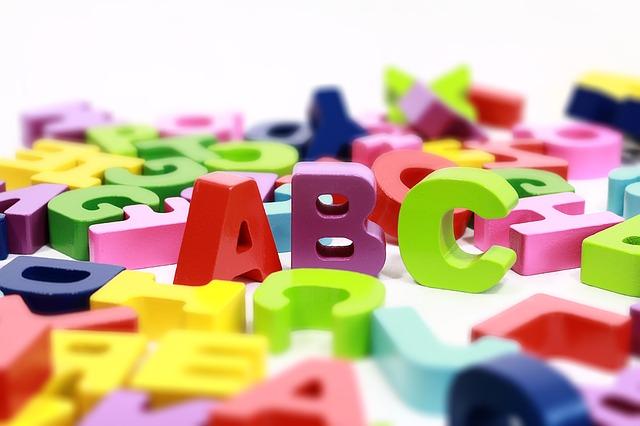 Learning the letters of the alphabet takes a lot of hands-on learning time with your child. Preschoolers need ample time to explore the alphabet through learning toys, good books, and fun activities. 
Teaching my children the alphabet has always been one of my favorite parts of preschool. Working together with appropriate toys and learning activities means that we have fun together while my preschoolers learn. Most of the time, they have no idea they're learning, and that's the way it should be for young kids.
Let's take a look at 6 fun ways to teach your preschooler the alphabet.
1. Alphabet Sensory Bin
Preschoolers love sensory bins, and they're a fantastic way to introduce the alphabet to your child. Making a sensory bin is an easy task. All you have to do is fill a plastic bin with rice, beans, or other materials. Then, add foam alphabet pieces into the bin. 
Give your child tools such as slotted spoons, measuring cups, and other tools to use to remove the letters. When he pulls a letter out, tell him the name. As he starts to learn them, you can ask him what letter it is. 
2. Build an Alphabet Tree 
Inspired by the book The Alphabet Tree, Pre-K Pages shows us a fun activity for preschoolers to try. They make green leaves out of green craft foam and put a letter on each one. Create a tree with a brown stem out of foam as well.
Once created, display it where your child can see. Then, your child can point out the letters to you when you ask. Ask him to show you were the W is, or the A. 
3. Match Upper and Lowercase with Lego Duplo Blocks 
Most preschoolers have some Lego Duplo Blocks laying around. You can use these as a toy for your child to match upper and lowercase letters. 
On one block, write the uppercase letter. Then, on another block, write the lowercase letter. Your child can find the matching letters and put them together. 
4. Identify on an Alphabet Placemat
Kids need frequent exposure to information to learn it, which is why parents often place magnetic alphabet tiles on the refrigerator. Another way to expose your child often to his letters is with an alphabet placemat.
You can point out each letter on the placemat, telling him the name of the letter. Since these placemats are laminated, you can use dry-erase markers for your child to circle the letters when you ask him to show you each one. 
5. Make Tactile Alphabet Cards with Salt
Kids learn well with tactile learning tools. You can purchase sandpaper alphabet cards, or you can make a homemade version with salt at home. 
Before you give them to your child, write out the letters with a glue stick. Make thick lines with the glue stick and sprinkle salt over the letters. Let them dry.
Then, you can show your child how to trace these letters with his fingers. Not only does this help with letter recognition, but they also teach proper letter formation. That matters when you go to teach handwriting. 
6. Form Letters From Play-Doh
What preschooler doesn't love play-doh? They love how it feels between their fingers. Once you give your child time to roll the play-doh and cut it into pieces, show them how to form the letters with it.
They can roll it out into long roll and form a C or an O. Kids can make any shape with play-doh! It's a fun, simple activity that all preschoolers enjoy.  
Collection 2019
Sale 70% Off
Title for image