How to Teach Your Children About Colors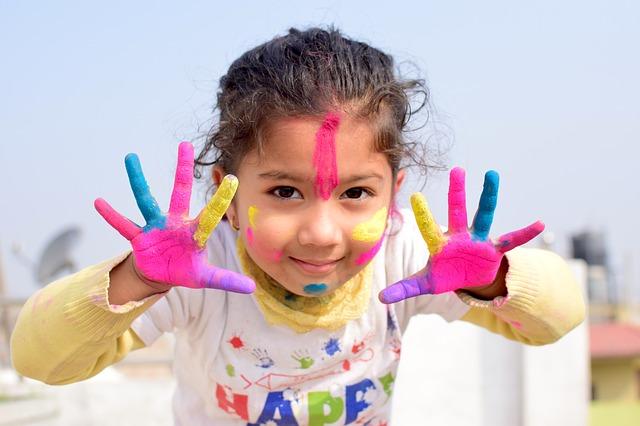 Teaching your children about colors shouldn't be a complicated or stressful task. You want your child to learn the differences between colors, which helps to prepare your child for preschool and kindergarten. 
Parents usually include colors throughout the day. You might point the color of their shirt or the color of a flower. These things are all helpful and introduce your child to the concept that all of the colors have a name.
Let's take a look at some other ways to learn about colors. 
How to Teach Your Child about Colors
1. Use Coloring Books 
Coloring books are an easy way to teach your child about colors. Gather crayons, colored pencils, and markers, along with coloring books that your child will like. You can find coloring books that are educational, along with ones that are fun.
The trick is that you have to color with your child. Each time he picks up a new color, tell him what it is. Then, transition into asking him to grab your green crayon or a red marker. 
2. Match Colors
Matching colors is another easy teaching method. Ask your child to find a matching blue block. You can get Counting Bears and have your child sort them by color into the correct cup. There are so many ways to have your child match colors in his daily life, even if it's finding the matching blue fork for his blue spoon. 
3. Try a Coloring Mat
Another simple way to teach your child colors is by getting him some coloring mats. These are a simple tool by MerkaStore that lets your child color his ABCs and numbers each day. The mats have a non-slip back and are wipeable, so your child can continue to use them day after day. 
4. Make Patterns with Blocks
Why not create some fun patterns with blocks or pattern blocks? You can make simple patterns such as red-red-green-red-red-green. Then, "read" the pattern by repeating the name of the colors. Ask your child to read the pattern colors to you as well.
5. Mix Paints Together 
Every child loves to paint, but mixing paints together to create new colors is a classic preschool activity. This activity teaches the primary colors - yellow, blue, and red. Two colors into each plastic bag and have him mash them with his fingers until well blended. It teaches him how to create green, orange, and purple! 
6. Compare Identical Objects
It can be a bit confusing to your toddler or preschool when you talk about the different colors of an orange and a banana. Of course, they're different colors; they're different objects! 
It's easier for kids to see the differences if you compare the same objects. Hold up a green and blue ball. Show him a green and red apple. Give him a red and green leaf. Comparing colors in this manner how to make the differences clearer to young kids. 
7. Point Out Colors in Nature
Take a nature walk with your child and show him all of the different colors throughout our world. He can see the green trees, the brown bark of the trunks, and the blue sky. Find some wildflowers, and he can examine all of the different colors. Then, he can pick out his favorite color! 
Collection 2019
Sale 70% Off
Title for image