Learning about Caterpillars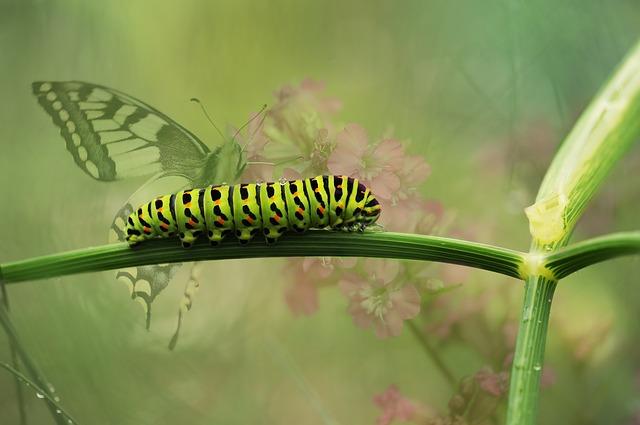 Springtime is a great time to teach your little kids about caterpillars. You can make the activities more advanced for older kids. Everyone loves caterpillars and butterflies! 
Here are a few ways to start learning about caterpillars. 
Learn the Parts of a Caterpillar
One of the first things you should do is learn about the parts of a caterpillar. Caterpillars have three body parts - a head, thorax, and an abdomen. Caterpillars have up to five pairs of short legs called prolegs. 
Have your child draw a caterpillar in his nature journal. Label the parts on the drawing, and see if you can point on the parts when they see a real caterpillar in person. 
Read Books
Of course, reading books is a must any time that you want to study a topic in depth. You can tailor this section to your child's reading abilities, but most caterpillar books aren't too advanced. If you have toddlers at home, you can pick up some board books on caterpillars as well. 
A few books to try are:
Hatch Caterpillars at Home
Perhaps the best activities to learn about caterpillars is to hatch one at home. You can purchase kits online with everything you need, giving you and your children a birdseye view on the transformation. 
Older kids can use a graph to chart your caterpillar's growth until it hatches into a butterfly. Growth is slow, so they'll see how much time and energy is spent during this developmental stage. 
Each day, your kids can check to see if there are any changes, and, hopefully, they'll get to see the hatching happen live. It's an awesome thing to watch. Kids of all ages find it fascinating as well as adults. 
Try to Find Them in the Wild
Now, head outside and see if you can find caterpillars in the wild. Make it a scavenger hunt with your kids to see who can find the first caterpillar. Check your backyard and take a nature walk. 
Once you find a caterpillar in nature, take pictures of it and have your kids draw it in their nature journals. 
Collection 2019
Sale 70% Off
Title for image